I have been feeling a bit down recently, with an overwhelming feeling of "What is the point?". It is probably a combination of being busy at work, lack of sleep from doing the late shift with Henry and not having time for my usual coping mechanisms – yoga, coding projects and riding my bike. However I am feeling much better after a day of bikes in the sun. Getting out on my bike is always something that lifts my mood, it must be the combination of exercise, fresh air and adventure! Whatever it is, I really needed it today!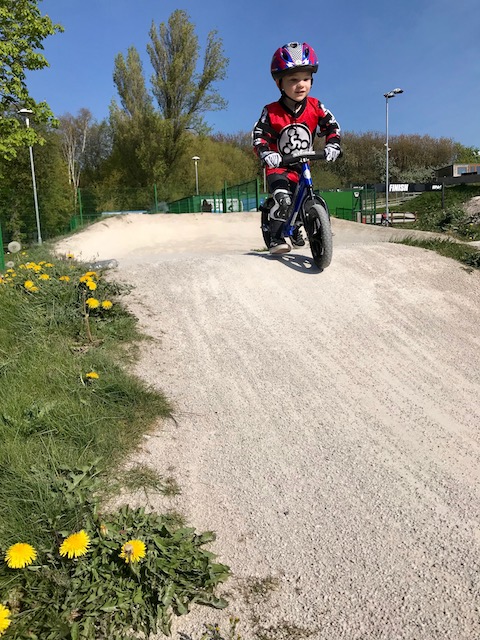 In the morning I took Owen to his usual #supersaturday Ready Steady Riders session at the Birmingham BMX track. Owen was riding really well. In the last few weeks he has really got the hang of his Strider balance bike, taking his feet off the ground and well, balancing! He is also gaining in confidence on the bike and really enjoying himself. With the nice weather we have been having I was expecting the session to be busy, but it was really quiet. So towards he end of the session Coach Kazzi asked if the riders wanted to go on to the "big track". The big track is a full sized UCI spec BMX track – the sort of thing you may have seen at the Olympics, as opposed to the mini "Strider track" that Owen usually rides. They were only using the last part of the finish straight, but even so it was a big moment for Owen. He needed help on the steepest section – it was big enough and steep enough that I would think twice about it on my bike with brakes, but he aced the rest, which was still much bigger than the Strider track. Owen seemed so happy each time he passed under he big "Finish" banner. It was a morning full of proud Dad moments.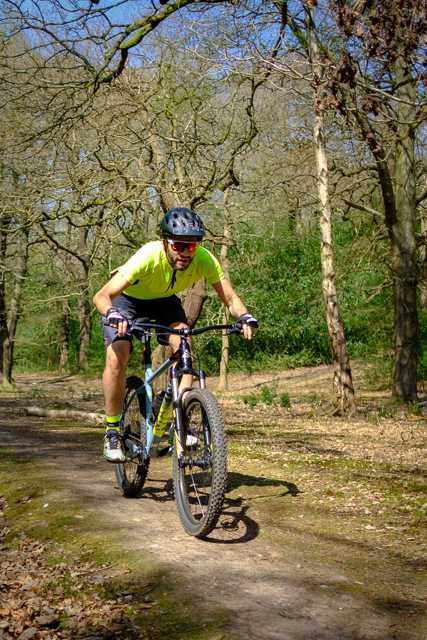 In the afternoon I joined my friend Partho for a ride around Sutton Park – his local trails, which I had not ridden before. It was just a gentle ride, as Partho is recovering from being knocked off his road bike earlier in the year and I tweaked my knee going over the bars on the way home from work earlier in the week. When we first arrived at the park it was extremely busy – to be expected on a sunny bank holiday weekend. By the time we climbed the steep hill to the top of the park we had the trails to ourselves though. On the climb I noticed that my heart rate monitor (a Wahoo Tickr, linked to my Apple Watch) was showing "2..", which I assume means heart rate over 200 beats per minute. In any case my heart rate was higher than could be displayed. I later found out that the hill is known as "Cardiac Hill", which figures. We followed some fun single track back down the hill, stopping for some photos before climbing back up "Cardiac Hill". At the top the trail was blocked by two wild Exmoor Ponies. I had seen warning signs dotted around, but expected it to be like the bear signs in Yosemite National Park, where we did not see any hint of a bear. This time we took a mellower route down the hill, past more wild ponies, which unfortunately did not want their photo taken. The trail culminated in either a steep up and over bridge or a ford. Both looked like fun, but as it was such a warm day I opted for the ford, which was just that little bit too deep to keep my feet dry. We finished the ride with a gentle cruise back to Partho's house, stopping for an ice cream before we left the park. What a great way to spend an afternoon!
When I got home, Owen helped me clean my hardtail, as we had a special delivery, which we need to fit to the bike tomorrow – watch this space…