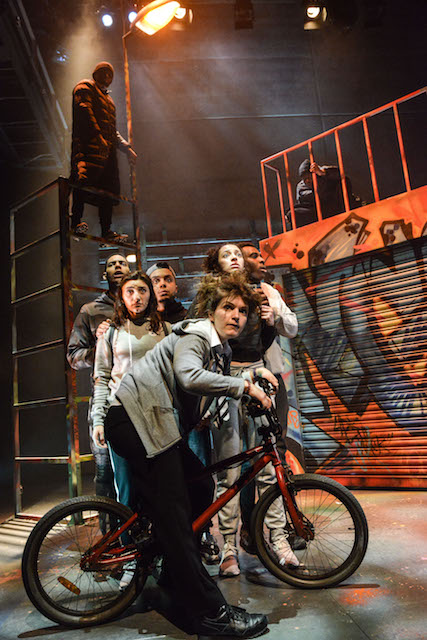 Ad – Through Coventry Bloggers, I was invited to watch Crongton Knights at the Belgrade Theatre in Coventry, in exchange for a review on my blog. All words are my own, however I am using photos supplied by the production, as photography was not allowed during the show. All photos in this post are copyright Robert Day.
Crongton Knights is a show about six friends – "The Magnificent Six", from the fictional (but could be in any city in the country) estate of South Crongton. They rally round when one of the group is in trouble, and head out on a mission to fix it. Leaving the relative safety of the South Crongton estate, they encounter troubles and triumphs along the way. It is billed as "about the friends you'll never forget and how lessons learned the hard way can bring you closer together.". It has been adapted from the Guardian Children's Fiction Prize winning book Crongton Knights, by Alex Wheatle (affiliate link to Amazon.co.uk).
The show was in the smaller "B2" auditorium at the Belgrade, which meant that you felt closer and more involved with the show (no need to worry – there was no audience participation). The set was brilliant in its simplicity, evoking an inner city estate with grey steps/railings covered in graffiti. There was no need for set changes, meaning the story could keep flowing as the adventure progressed.
What struck me the most was the breadth of talent that each of the cast had – not only were they acting, singing and dancing, they were also providing the soundscape by beatboxing. There was no backing music – everything was the cast! The music, all written for the production, ranged from RnB, such as the catchy "We are The Magnificent Six" theme song (which I still have in my head), to solo raps about the important issues facing the characters, and many young people in general. That is not to say that the show was all serious, there were lighthearted moments and cleverly scripted running jokes throughout.
Even though where I grew up, in rural Northamptonshire, is about as far removed from an inner city estate as you can get, I felt a connection with the main characters, willing them to succeed in their mission and do the right thing! The Magnificent Six reminded me of my group of friends at school and made me think about the scrapes that we would get ourselves into, how we handled them and why some of us are still close almost twenty years later!
Crongton Knights is running at The Belgrade Theatre in Coventry until the 22nd of February 2020 – tickets are available on their website. After Coventry the production will be touring around the country, see the Pilot Theatre website for dates and tickets.