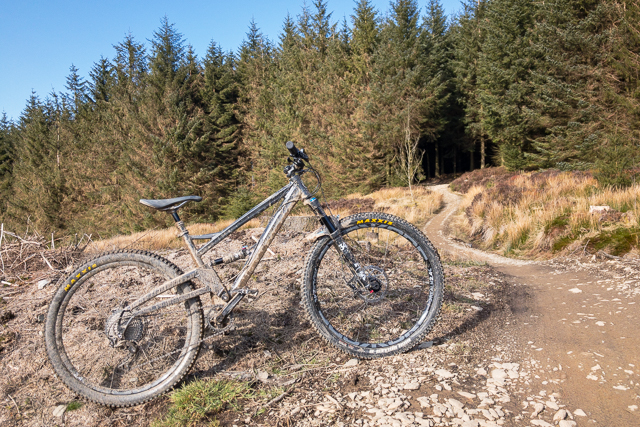 After what felt like weeks of snow and horrible weather, spring finally decided to show its face, as the UK changed our clocks to British Summer Time. Fortunately this coincided with a day I'd set aside for mountain biking. Llandegla was a last minute decision, mainly based on having a good weather forecast and the cafe posting some tasty looking burgers on their social media. With the clocks changing, and my usual faffing at home it was 10:00 before I set off (I really need to get better at getting out the house!), meaning I didn't arrive in North Wales until lunchtime.
I didn't hang around getting onto the trails, as I wanted to get a lap of the red trail done before lunch, although I did find time to buy some new gloves from the shop. Without even realising it, I made it most of the way up the 5km long first climb that I'd struggled with last summer, and my legs still felt fine! I continued to the top of the trail, barely believing how much my fitness had improved since last summer!
The first section of the trail was pretty muddy – when I stopped at the end to tweak my suspension, I was covered head to toe in mud including my 30 minute old gloves. Whilst I was stopped I had a chat with a couple of other riders, it turned out one of them lives less than a mile from me in Coventry.
Happier with my suspension settings, I carried on down the trail to the Snowdon viewpoint. I remember having to stop for a breather a couple of times on this section on my last visit, as even though it was down hill, it was still tough going. However this time, I was able to keep going and faster than before too. As it was a clear day I had a good view of Snowdon, which had a dusting of snow on the top. It was at this point I went to get some jelly babies from my bag, annoyingly they had vanished – possibly a sign that I need to buy a new bag, rather than taping up the holes with gaffer tape…
There was a diversion on the next section, I was hoping that it would miss out the Double Steep Climb section, unfortunately it didn't. After feeling good about my fitness, the short but steep climb put me back in my place – I had to get off and push. The next section was fast and downhill up to the decision point to B Line, there were only a few other riders on the trail, and I was seriously enjoying myself. There had been a lot of forestry work since my last visit, so even though I'd ridden the trail before it all felt new.
I decided against riding B Line, as I'd ridden it on my previous visit, it was at the top of my abilities and I wanted to ride the full red trail. This section of trail had a few line choices, with various jumps and drop offs, I wasn't expecting to have to choose obstacles, but made my way through without any mishaps. I like the idea of different lines that don't necessarily increase in difficulty. Back on the main trail I joined a group of ten or so riders and felt like both myself and my bike were coping well with the steep, rough downhill sections, but in the back of my mind was the brutal climb back up to the reservoir. The whole group seemed to be riding at roughly the same pace, and struggling on the same climbs, so I didn't feel so bad on the few occasions where I had to get off and push – as I wasn't on my own.
For some reason I had forgotten about the climb after the reservoir on Julia's Trail, I was expecting it to be all downhill from there – it probably didn't help that I was getting hungry by this point! I also managed to get caught behind an e-biker, she was able to pull away from me on the climbs, but held me up on the downhills, until she eventually let me past. It reminded me a bit of the "fast car" on a trackday scenario – my little MR2 is slow on the straights, but can carry a lot of speed through the corners, so I am sometimes held up in corners, but not fast enough to pass on the straights. Without anyone in front of me, the ride back to the trailhead – and my lunch – was fast and fun!
The special burger that had been shared on social media wasn't on the menu, but after a tough ride the standard burger went down well, washed down with a can of Irn Bru. As the sun was out, it was nice to be able to sit outside to eat my lunch.
With a full belly, I set off back up the hill to ride the blue trail, once again making it up to the top of the hill in in one hit. The blue trail is much flowier, with smoother trails and fewer climbs it is so much fun to ride! The blue trail starts after the muddy section of the red trail, with a bermed hairpin sending you back through a cleared part of the forest, which is quite an eerie landscape. The only problem is that this part of the trail is too fun for photo stops! I finally pulled up at the end of the section for the photo at the top of this post.
I followed the blue trail back down the hill, mostly on my own, other than passing a few dads out with their boys, which made me miss Owen, and look forward to being able to ride with him one day. Close to the bottom of the hill I took a diversion off the trail to visit the pump track. I did a few laps, alternating with a little boy, probably only a few months older than Owen, on his balance bike and his Dad. They were having so much fun, going round the trail together – that should be me and Owen by the end of the summer and I can't wait!
I hadn't ridden the last section of the blue trail from the pump track to the car park previously and it has so much fun, a perfect end to the ride!