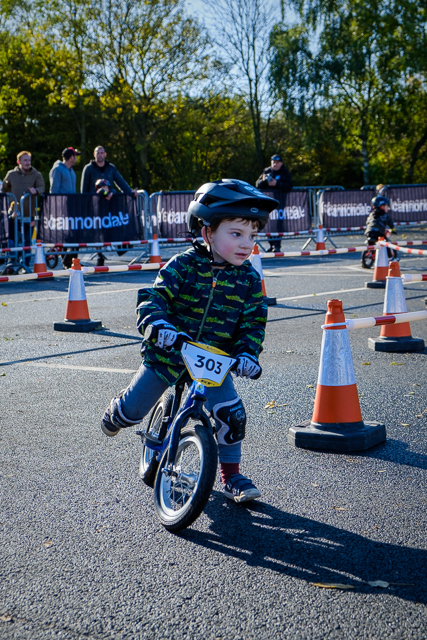 2019 is a great time to be a toddler on a balance bike! There have been new events popping up regularly, but the big one was the inaugural Balance Bike Cup, organised by the team behind The Malverns Classic mountain bike festival, which Owen would have also raced at, had the event not been rained off. Fortunately, despite rain the previous few days, Birmingham was treated to some late October sunshine and the asphalt car park meant no mud issues!
After signing on and getting a big Ready Steady Riders sticker for his jacket, Owen was straight on to the track to practice, he particularly liked the special balance bike sized starting gate that was built for the event. Owen did lap after lap, working out his lines and having a great time. After a long wait whilst the two year olds raced it was time for Owen's first moto – unfortunately he had knee pad issues and had to stop to adjust them before finishing his lap and came, ending up in last place. Then it went from bad to worse – Owen just missed his second moto because we went to grab lunch, thinking that we would have time before the other classes finished their motos. Although Owen was given a DNS, he was able to squeeze into another moto, which would not count – he raced well in this one, coming in second place. Owen's third moto was uneventful, but he still came last Unsurprisingly with three last places he did not qualify for the finals.
I have come to the conclusion that, like me, Owen is not really cut out for racing. He loves riding round the track with the other children, but not all the structure/waiting associated with racing. Which is a shame, as races are when everyone gets together and there is a great community around balance bike racing! Maybe we will try Owen racing again when Henry is old enough to race, as we will be at the events anyway. In the mean time, I will be trying to organise some social rides with Owen's friends at pump tracks or trail centres, as that is what he enjoys the most!
A race report and photos have even made it on to the Pinkbike website!