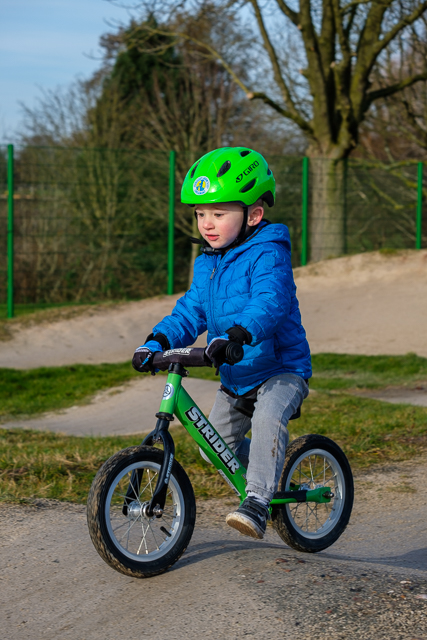 Since changing jobs and working full time again, I have missed my Fridays off with Henry, but we ended up with a Saturday to ourselves and made the most of it! We started off with the Ready Steady Riders Super Saturday at Birmingham BMX track. It has been a while since Henry last went, and both his riding and attitude have improved considerably. He was happy to just keep doing laps of the balance bike track, the only wobble he had was when the bigger kids went for their session on the full-size BMX track – however, once we had agreed that he could do the big track session on our next visit he got on with riding the balance bike track. With only three other riders it was a good session and they all rode well together. Henry only stopped to pester me for snacks! At the end of the session, they were invited to join the group on the big track, who were being filmed for the Commonwealth Games, Henry looked a bit nervous at the top of the big ramp, but did not hesitate to drop in, in fact, he did not even wait for his name to be called! As the light was good I brought my camera kit along and got some nice photos.
After the bike track, we went to Sutton Park to meet my friend Partho, and his dog Otto. Otto is a miniature dachshund and Henry's "favourite dog". Henry often asks to see photos of Otto on my phone. Otto seems to like Henry too! Henry was so good holding Otto's lead, they looked so cute together walking through the park – everyone walking past commented! After a solid hour of riding and a long walk, Henry was starting to flag towards the end and needed carrying, but it was nice to be out in the park. Then, having worked up an appetite we grabbed some lunch at the pub. Henry was flagging by this point and even got to the second stage of tired toddler – the mad half hour. Otto loved having an excitable Henry to play with and it was so cute watching them play together, however, I knew it was time to get Henry to the van for a nap. Before we left, Henry had just enough energy to get into Partho's car, sitting next to Otto. He asks to do this every time he sees Otto in the car – Henry is a stickler for routines and sitting in the back of Partho's car with Otto is another one of his favourite routines.
By the time we got out of Sutton Coldfield, Henry was fast asleep in his car seat after a very busy morning! It has only been two months since I started working full time, but he seems so much more grown-up than when we last had a Daddy and Henry day out. It is hard to believe that he will be three next week!