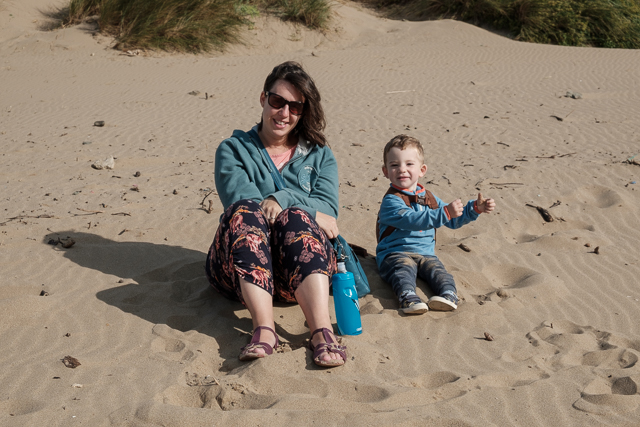 Croyde, in North Devon, is one of my favourite places in the world! Ten years ago I visited for surfing trips with my mates, and fell in love with the village and beach. I have been back every year since. This year we visited again for a family holiday, with Owen and my parents. Owen has visited Croyde before, but Mum and Dad haven't, so I was looking forward to showing them around our usual haunts.
Two years ago Jen and I drove down in the MR2, with minimal luggage, however this year the BMW was stuffed full of luggage, and a bike on the roof. I am going to need a bigger car! Traffic on the M5 wasn't great, but Owen was a good boy, so the journey wasn't too arduous. We met Mum and Dad at the holiday cottage, unpacked and formed a plan to head to Squires fish and chip shop in Braunton for dinner. The first of our regular haunts! After the long drive I didn't feel like being crammed into the BMW again, so chose to ride over on my bike. I took the back roads to Braunton. It was a big climb out of Croyde, but the views down over Saunton Sands were worth it. The descent down to Braunton was fast. I was on the road, so without any tricky corners or rocks to negotiate I only had to slow down for a couple of cars coming the other way and made good time. I arrived in Braunton before the rest of the family, within twenty seconds of the time Google Maps had predicted it to take! I'm sure the fish and chips tasted even better than usual after riding over to get them! (I did wimp out for the return journey and got a lift back in the car – I didn't fancy the narrow lanes in the dark).
We started our first full day in Croyde with a walk into the village, although Owen really wanted to go to the beach! Mum and Dad walked over to Saunton Sands, and Jen and I took Owen to the beach. He was in his element playing in the sand, digging and looking for shells! In the afternoon we walked up to Sandleigh tea room. Owen had fun exploring the garden and chatting to the scarecrow, whilst we enjoyed a lovely cream tea. Mum and Dad walked to Baggy Point, whilst Jen, Owen and I went back to the beach. As the tide was out we could clamber across the rocks from Sandleigh, rather than walking back along the road. At first Owen seemed a bit unsure, but he loved splashing through the rock pools and looking for creatures. However, he was even more excited to get back on the beach to dig some holes! In the evening he came up to me, gave me a huge hug and said "I love you Daddy" – the first time we've heard him say that. He is such a little charmer!
The weather forecast for Sunday was for rain, but we managed to get to the beach for an hour before the rain started. Owen did more digging and I flew my old Flexifoil Stacker kite. Owen had been captivated by someone flying a kite the previous week, so I thought he may be interested, but it was a bit too powerful for Owen to have a go with. The rain started just as we were walking home; we made it back without getting too wet, and spent the rest of the morning chilling out at the house. Whilst Owen had his nap, Jen and I escaped into the village on our own for a quiet cup of tea and a piece of cake! As we got back, Mum and Owen were heading out to the playground, so we joined them. It was good to get Owen out of the house and running around a bit. He also got to see the beach tractor – I don't think it can get any more exciting for Owen than a tractor on the beach! We finished the day with Sunday lunch at the Manor House Inn, another Croyde tradition for Jen and I. The only problem was that due to it being a rainy Sunday the carvery had been hit hard. The roast beef, that I had been particularly looking forward to, had all gone. At least it gave me an excuse to try something else from the menu – the steak and ale pie was a good substitute! I thought it was funny that most of the other tables were also families with children and grandparents.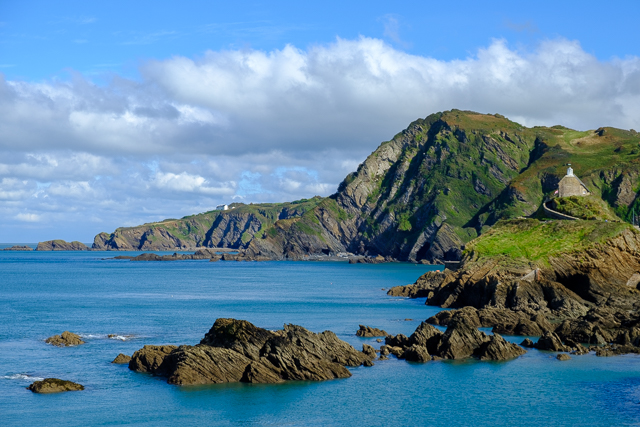 As I hadn't managed to get out on my bike on Sunday, I got out on the Monday morning instead, before meeting Jen for breakfast at Blue Groove – our favourite cafe. I have already posted about my ride, so won't fill a holiday post with bike talk. When we got back Owen wasn't too keen on going for his nap. The weather wasn't great either, so Jen and I took him out for a drive to Ilfracombe. Owen was looking forward to seeing boats and trains, even though I had explained that there wasn't a railway there. We parked at the harbour, so saw the boats, then at the end of the harbour we saw a little road train! We had to go on it, even if it was just for a little tour of the town, most of which we'd seen from the car on the drive in. Owen was very happy with his train ride and it gave Jen and I the chance to scope out ice cream shops. Joey's looked the best, so we put that theory to the test. My Bakewell tart ice cream was nice, however Owen ending up wearing most of his bright green mint chocolate chip ice cream. To work off our ice creams we took a walk around the Capstone Parade, a traffic free promenade around the Capstone, a small hill between the town and the sea. It was good to let Owen have a run around without needing to worry about traffic. I also got to do some photography, I was particularly pleased with the photo above, looking past St Nicolas Chapel and the harbour entrance. By the time we got back to Croyde the weather had improved, so we went straight back out to the beach with my Mum. Owen enjoyed more digging and filling his bucket with water from the rock pools. It really was great having the beach a five minute walk from where we were staying meaning that we could just pop down to the beach after whatever we were doing during the day. After dinner, I went back to the beach to try and do some golden hour/sunset photography, however the light was rubbish. I should have listened to my Dad, who had declined to join me – as he thought the light would be rubbish!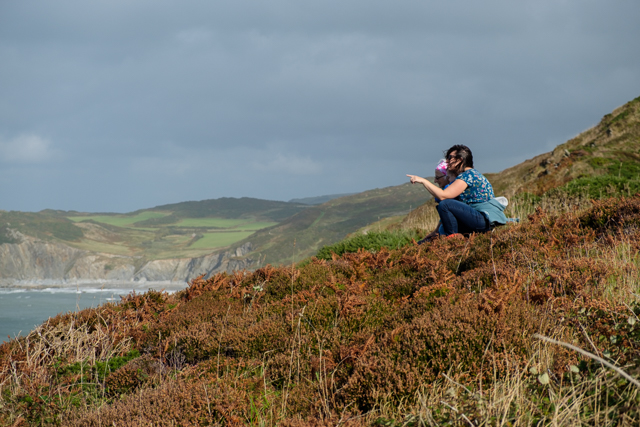 Owen was in a funny mood on Tuesday morning, the weather wasn't great either, so we had a quiet morning. We popped in to Braunton to do some shopping, then I took Owen to the playground. After lunch Mum and Dad walked to Mortehoe. Jen, Owen and I drove there in the car to meet them. Then we all walked down to Morte Point. The walk was about a mile, but as it was over footpaths/parkland we couldn't take Owen's pushchair -this would be his first hiking experience! He did better than I expected, I only ended up carrying him for about two thirds of the way. When we got towards the headland the wind was incredibly strong – the back end of Storm Helene was battering the UK. Mum, Jen and Owen held back and looked for seals in the sea, whilst Dad and I continued to the end of the point. It was probably a good job that Owen didn't go all the way down with us, as Dad and I were getting blown about by the wind and struggling to stay upright – Owen would not have stood a chance of staying on his feet! After all that effort we went to Bllly Budd's for dinner. The plan had been to get pizzas, but none of us ended up ordering one. I had a massive bowl of nachos with pulled pork, which I struggled to finish! Owen seemed to enjoy his fish fingers, but playing on the playground was his favourite part of the meal. I was impressed that he'd learned to climb up a rope net to get on the slide – he is getting very good at climbing!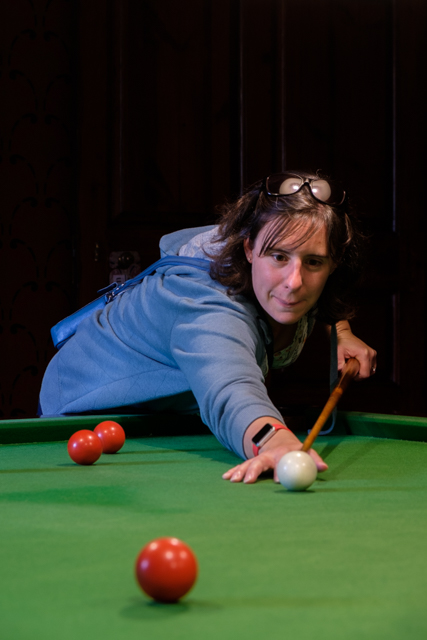 Wednesday the 19th September was mine and Jen's third wedding anniversary – time has shot by! Owen woke himself up coughing before 5:00 – I thought it was going to be an early start, but by the time I got back upstairs with the Calpol, he had fallen back asleep and didn't wake up until 8:00! Thanks for the anniversary treat Owen! My Mum had offered to look after Owen all day, so Jen and I could have a day out – Jen wanted to visit Dunster Castle, so that's what we did! I'm not normally a fan of stately homes, but fortunately Dunster Castle is a bit different! The sun was out when we arrived, so we had a walk round the gardens, taking a selfie on the Lover's Bridge. Then we visited the working water mill, which was milling flour. It was great to be able to not only see the mill working, but be able to clamber around both inside and outside the building to get a closer look at the whole system – from the channels taking water from the stream and over the wheels, to the gearing inside powering a variety of machines, in addition to the milling stones. Naturally we couldn't leave without buying a bag of the flour we had seen being milled. After the mill we visited the tea room and had my favourite holiday lunch – a Cornish pasty followed by a cream tea! As the weather was now turning, we decided to head inside and check out the castle. First stop wast the crypt, to learn about the life of the servants in Victorian times, and the resident bats. We had hoped to do the Victorian kitchen tour, but it was fully booked – if you're planning on visiting Dunster Castle, make sure you call at the castle reception and book on as early as possible! Instead we did the self guided tour of the castle, which focussed mostly on its heyday, around 100 years ago. I particularly liked the dining room and adjoining blue 1950's kitchen with views over the Bristol channel to Wales. When I heard that you could try billiards, I instantly thought of a photo opportunity with Jen looking down the cue and was pretty happy that I was able to pull it off, especially given I am still learning my Fuji camera. It seemed like we had missed the worst of the weather, as back in Croyde Owen and my parents didn't even make it to the beach – they had to turn round as the wind from Storm Ali was whipping sand into Owen's face. They went to the playground instead, ironically it was too windy to fly the new kite that Dad had bought Owen. In the evening Jen and I went back to Blue Groove for an anniversary dinner, just the two of us. Both of us had our usual dishes, chilli beef burrito and moules frites.
The weather was rubbish for our last full day in Croyde, after Storm Helene and Storm Ali rained on us we had Storm Bronagh. I'm not sure what we did to deserve three named storms on our holiday week! Dad and I braved the rain and walked to Blue Groove for breakfast and that was it for the morning! The weather hadn't improved much after lunch, and Owen was in a funny mood, so we decided that there was only one thing for it – soft play. Jen found Quince Honey Farm in South Molton, which sounded more interesting than normal soft play and would give Owen a chance to nap on the drive there. At the honey farm we learned about bees, their hives and tried some different types of honey. When we got to the soft play area we were the only ones there! This meant I didn't feel too guilty about taking Owen on the big slides etc. Once again he got to show off his climbing skills and graduated from sitting on my lap on the slides to racing me down! We had saved The Thatch for our final evening in Croyde and all had a good meal, making up for the miserable day. Owen was on top form, eating most of his dinner and charming the staff.
Packing the car back up seemed to be quicker than in Coventry and we were on the road fairly early. Even more unusually the traffic past Bristol was fine! There was a bit of traffic on the M5 as we got back to the Midlands, but we were still home by early afternoon. As we were driving back Jen and I reflected on our week and both felt that Croyde had somehow lost its sparkle, it could have been down to the weather, familiarity, staying at the other end of the village to normal, the seeds sown by watching a programme on TV about how Croyde is being ruined by holiday lets earlier in the summer or simply that our needs are different now that we have to think about more than where we are going to go for dinner! We still had a great time, but the chat in the car was more about where are we going to go on holiday next year, rather than what are we going to do when we visit Croyde next year. I'm sure we will be back though, as it is such a special place to us, but maybe next time it will be a romantic weekend away just the two of us…