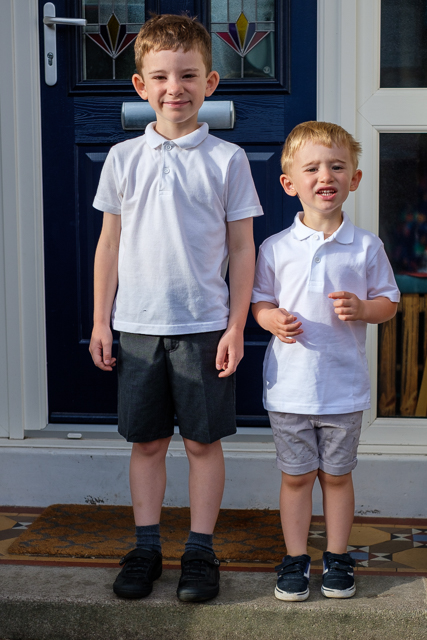 This year it is not just Owen going to school – Henry is starting at the preschool at Owen's school. So I have changed the format of my "back to school" posts, with sections for each of them and a photo of the two of them together in their school uniforms, which is easier said than done!
Owen's First Day of Year Two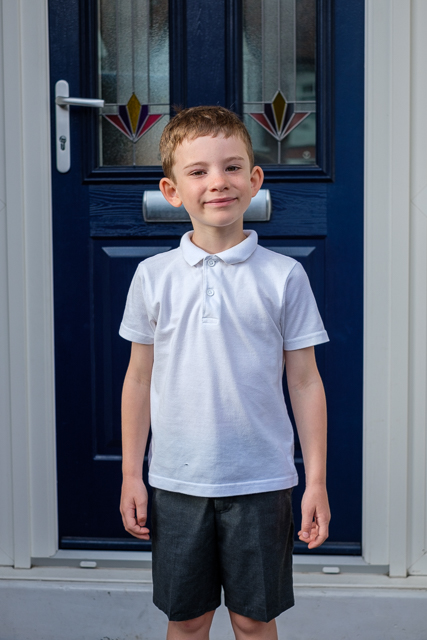 Owen's school holidays have gone fast! Back in July I was concerned about how we would keep him occupied for six weeks, but we have managed to pack the holiday full of activities! There have been family holidays, bike festivals, bike trips, school holiday club, Parkruns, a new website, play dates and even the odd quiet day at home for Owen! However I think it will be good for Owen to get back in to the school routine, and for him to hang out with his friends more – they were all so excited to see each other on the way into school this morning!
Like last year, in addition to the mandatory photo by the front door, I asked Owen some questions, to record how he changes over the years:
Henry's First Day at Preschool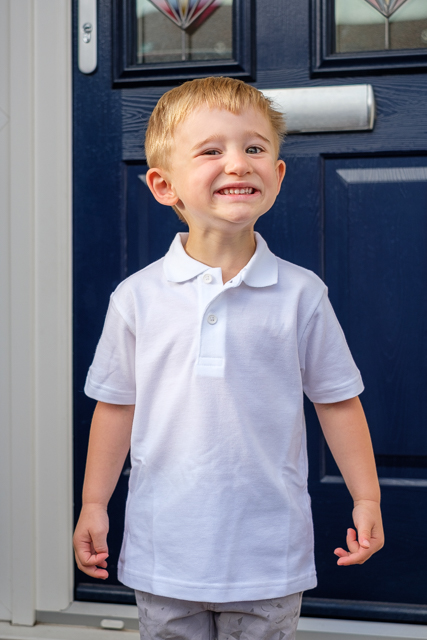 Henry has been keen to go to the same school as Owen pretty much since Owen started, and in the summer holiday he got his first chance as he was able to go to the holiday club! He was slightly nervous going in, but Owen was able to stay with him for a bit. When I collected him, Henry said that he had had a good day! Unfortunately there is a drawn out settling in process for preschool, so Henry's first day consisted of a half hour session, where there weren't even any other children. Still he was excited to put his school uniform on! Due to the settling in process at the school preschool, he has also started preschool at his nursery, but that will only be for two weeks.
Henry also answered the questions, for the first time:
Height: 101cm
Shoe size: 8
Bike: Pedals – Frog 43/Balance bike – Strider Sport
Favourite colour: Orange
Favourite food: Ham sandwiches
Favourite book: Peppa Pig – he could not pick one, as we usually get a couple out from the library each time we visit.
Favourite thing to watch on TV: Also Peppa Pig
Best thing we did over the summer holiday: Our family holiday to Staithes
What do you want to be when you grow up? A digger driver