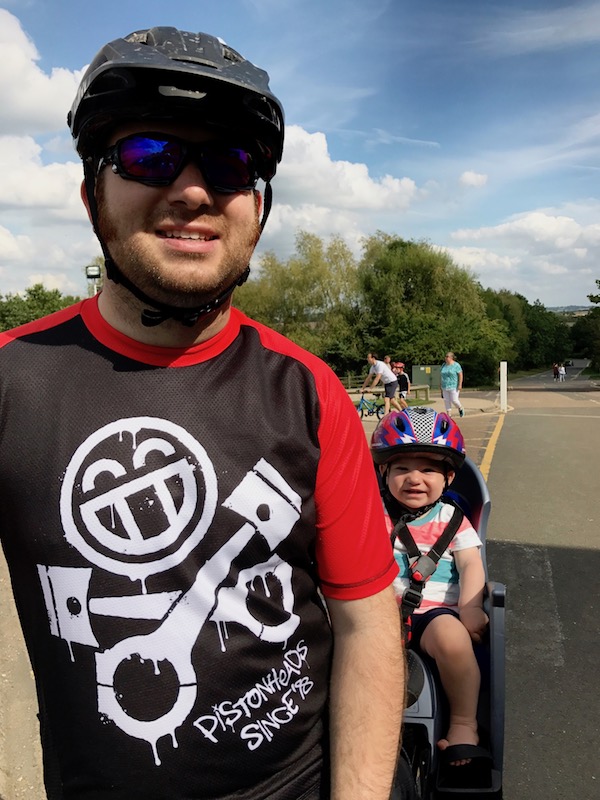 2017 is going to be a tough year to top! The main highlight was taking 9 weeks parental leave to spend with Owen – I'm not sure I'll get another chance to take such a long break from work again and it was great bonding time with the wee man at such a key point in his development. If any fathers to be are reading this and are considering taking shared parental leave I'd seriously recommend it, and also checking out the series of blog posts I did documenting my time off!
The first few months of the year, before my paternity leave started were fairly standard, I took the MR2 to a few Pistonheads events – a visit to Prodrive and took it on track at Silverstone. I also had my annual trip to the Leisure Lakes Demo Day, which proved to be quite a key day for me.
The spring was by far the best time of year – I was on paternity leave and in addition to spending every day with Owen I managed to fit in a wedding, some climbing, a big bike ride in the Cotswolds, project managing a garden renovation, a holiday in Croyde all culminating with Owen's first birthday party! I think it is pretty safe to say that I made the most of my paternity leave!
Summer was all about mountain biking – starting off with buying my dream bike! 15 year old Lewis would have been very excited at having an Orange mountain bike, a full suspension Orange mountain bike would have seemed other worldly! I hadn't planned on buying one, but after demoing one at the Leisure Lakes Demo Day, I had to have one. This meant my old bike could be fitted with a child seat for Owen, and he seemed to like his rides round Draycote Water and along the Monsal Trail. Owen even managed to sneak into the GMBN Bike Vault! We also had a fun trip to North Yorkshire for Jen to run the York 10km race, me to ride my bike on the North York Moors and Owen to share his stomach bug with everyone we met. I also started to settle into my new four day week at work. It has meant a pay cut, which isn't ideal, but getting to spend the extra time with Owen has been worth it. Fridays usually start off with mountain bike videos, then Owen's swimming lesson followed by a nap. Then lunch, a walk to the butchers and/or the park before waiting for Jen to get back from work.
The main event in autumn was our trip to Cyprus for my best friend Partho's wedding, after the initial stress of getting there, we had a great time, both at the wedding in Limassol and relaxing in Protaras afterwards. There were so many firsts for Owen, the big one being his first flight on aeroplane, and he coped well with all of the new experiences. After getting back from Cyprus I had my best bike ride ever, a loop of the Monkey Trail at Cannock Chase where everything just clicked. Unfortunately I had a really bad ride back at Cannock Chase a few weeks later. I came off my bike on a tricky section of trail, aggravating an old knee injury. This happened at the top of a hill, at the furthest point of the trail from the car park. I managed to gently ride back to the car, mostly annoyed that I'd done all the hard work climbing, but missed out on the fun descents. However, when I got out of the car at home my knee had swollen up and I was in a fair bit of pain. It took about a month, and a lot of exercises from the physio to get the full range of motion back, but it is on the mend now.
At least my injury coincided with the bad weather, so I didn't feel too bad about spending my evenings at home at my computer, working on websites and generally being a geek. We also won a new project at work which has been keeping me occupied, so I've not missed mountain biking as much as I thought I would. I did manage to take a trip to the Ferrari exhibition at the Design Museum in London with my Dad. Christmas was an extra special time now that Owen can appreciate what is going on, I don't think he understood exactly what was happening, but he certainly liked having an advent calendar, the brightly coloured tree in our living room and seeing Santa Claus in the run up to Christmas. He also enjoyed being the centre of attention throughout the festive period, spending time with his aunts and uncle and especially all the new toys that arrived for him! I'm sure next year will be even more special again, as Owen starts to understand what is going on. After Christmas I was able to get back on my bike for a short local ride but mostly enjoyed spending time at home with Jen and Owen.
At the start of the year I set myself six goals on my look ahead to 2017 blog post, I feel like I've done pretty well in meeting them:
Get my weight under 90kg – and keep it there
I currently weigh 87kg and have been under 90kg for over six months. When I reviewed my goals in June I set a stretch goal to keep my weight below 87.5kg, which I have just about managed.
Do a trackday at a new track in the MR2
Must try harder in 2018! I've barely driven the MR2, and only did one track session at Silverstone.
Ride my bike at a new trail centre
Llandegla was hard but awesome, I'm looking forward to a return trip.
Ride the full Follow The Dog and Monkey Trail loops at Cannock Chase in one ride
Yes. I also had some good rides in the Cotswolds on natural terrain.
Get out on my bike with my camera
I took my compact camera out with me on a few rides, but what I really wanted to do was a proper photography mission on my bike, which I didn't get around to. Another one to carry over to 2018!
Make yoga a part of my weekly routine
I wouldn't say yoga is part of my weekly routine yet, but it is getting there. I did have a few months of practicing yoga two or three times a week, but when I injured my knee at the beginning of November I let the yoga slip, as I just didn't have the required mobility in my leg. Yoga has been replaced by knee exercises from the physio, along with some upper body weight training, but I'll be looking to phase the yoga back in over the next few weeks.
Aside from the goals I laid out at the start of the year I feel like I have accomplished a fair amount, especially as I've had to balance work, family life, training and personal projects, which was an accomplishment in itself. I'm most proud of how much my fitness had improved over the first ten months of the year, I seem to notice it most at places I ride my bike occasionally, such as Cannock Chase, I found myself riding straight past places where I would have normally had to stop for a breather. Hopefully six weeks off the bike hasn't undone all of that good work! At the start of the year I said I wanted to clock 100 active days, do at least 1x Everest climbing and log more kilometres on the bike that my best friend Partho. Even with six weeks off the bike I managed 100 active days, although two off them were swims, 1.8x Everest of climbing and most importantly rode over 400km more than Partho. Up until my knee injury I had ridden my bike at least once a week from the second week of the year, which probably had a lot to do with my improved fitness.
I have been trying to expand my technical skillset, from front end developer to full stack developer, this blog has been moved to an AWS EC2 instance, which has taught me a lot about running a web server and has lead to a few other interesting projects. I have also been brushing up my PHP and MySQL skills, which I hadn't used since graduating from university in 2007, at the moment I've only been using it for a small personal project, but it is something that could expand one day…
I also feel like I've shared in Owen's many accomplishments this year – he has said his first words, taken his first steps, been on his first bike rides and charmed every person he has met. He is also turning into a little petrolhead, "car" seems to be his word for anything he likes and he could happily play with cars all day. I wonder where he gets that from…