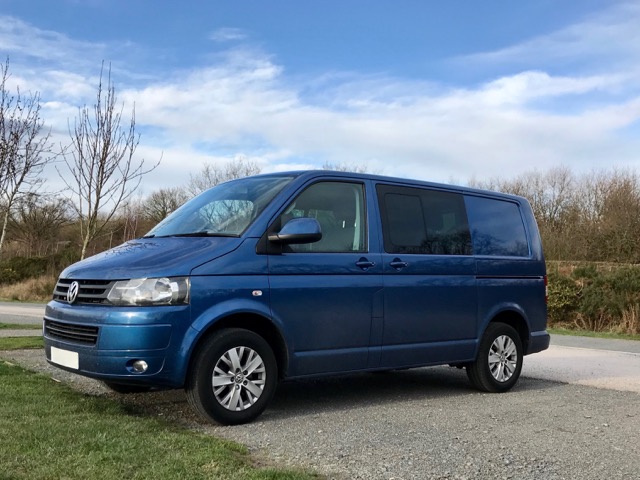 The BMW has gone, and my replacement daily driver is a van – a 2014 Volkswagen Transporter Kombi! Kombi meaning it has windows and a row of three seats behind the driver, then a load area at the back. The BMW was too small for us, especially when we needed to go away with bikes, so a bigger car was definitely needed. I looked at loads of different options during my research, but kept coming back to vans, as a small increase in exterior size from a large car gave a huge jump in practicality. Being able to hide (and lock) the bikes away in the back offers way more options for stopping off on journeys and really sealed the deal for me.
When I had settled on van, a VW Transporter was the only option. They are the most car like to drive and they are by far the most common "lifestyle vans", with plenty of specialist garages and online resources available. I was not looking to buy a van quite this soon, but had been casually browsing, when this van popped up. It had the perfect spec, was fairly local, in budget and by far the best colour – so I bought it!
I have no plans to convert it into a camper van, which is common with these, but there may be a few changes to the interior to make it more comfortable/practical. However the plan for now is just to use it like a big estate car – it is going to come in really handy for the trips we already have planned in 2020 and will hopefully facilitate some more spontaneous adventures.
So far I have only driven it a few hundred miles, including a few trips to Hicks Lodge (first to check it out, then to ride with Owen). It drives better than I expected, the six speed gearbox has one of the best shift actions I have experienced. The two front seats are comfy and the boys love being sat high up in the back – especially Owen, who has commandeered the middle seat, for the best view out of the vast windscreen (ideal for spotting diggers etc). Being ten years newer than I am used to, I appreciate modern features such as parking sensors (that works, the BMW had them, but they were broken) and factory fitted Bluetooth. I do need to investigate the Bluetooth media player, as it does not always work as expected – I literally test these systems for a living and have not been able to tame it. After the BMW I also appreciate the simplicity of variable intermittent windscreen wipers, rather than the rubbish automatic wipers that never waited until you could not see anything to wipe the screen. I have noticed a few downsides: it does not fit on the drive with the tailgate open, although it is actually shorter than most of the estate cars I was looking at. A full tank of diesel is over £100, but should last 6-700 miles. The thing that takes the most adjustment for me is that it is a big departure from the compact rear wheel drive cars I have been used to for years. A more relaxed approach is needed, there's little point seeking out the fun cross country route, unless there's a view worth taking in – because you will get to see it much better than in a sports car. Hopefully a side effect of this is that I will make more effort to drive the MR2 when I am not transporting bikes or boys…