At the start of the year I posted my goals for 2017, as we are halfway through the year I thought I'd follow up on them and post my progress.
Get my weight under 90kg – and keep it there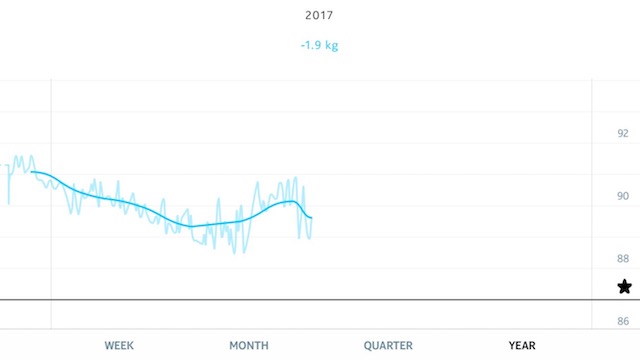 My weight has been under 90kg for most of 2017 so far, I actually reset my goal to 87kg. However we went on holiday to Croyde and too much holiday food was enjoyed, so I crept back over 90kg, but I am back under now and still aiming for under 87kg.
Do a trackday at a new track in the MR2
I've failed on this one so far, I did a track session at Silverstone, but since then I haven't done much with it. It really needs a suspension refresh, so I am a bit reluctant to go on track before that is done. I will see what happens over the next few months though.
Ride my bike at a new trail centre
Most of my riding has been local so far in 2017, with only a couple of trail centre visits. I went to the Leisure Lakes Demo Day at Cannock Chase in March, I also took my new bike there last weekend. I have got plans to ride at Llandegla trail centre in Wales in a few weeks time, so not too worried about missing this goal. What I have rediscovered this year is cross country riding on unknown trails, I had a really good ride from my Mum and Dad's house, exploring the Cotswolds and tried out a fairly local route, which in future I may build into a longer ride from home. Riding on natural terrain on bridleways has opened up a whole new area of mountain biking for me, one which I should be delving into more over the coming months.
Ride the full Monkey Trail at Cannock Chase in one ride
Not yet! Although I'm pretty sure I could have done it last weekend, except I was running late. My excuse is that Owen slept in and didn't wake me up. I'm sure I'll get back to Cannock later in the year and complete the loop.
Get out on my bike with my camera
I have been taking my pocket camera – a Canon S90, with me on my bike recently. I am interested to see how photos from the old camera compare to my iPhone 7, which I will probably go into on a future blog post. I still have plenty of time left to get out with my DSLR though, ideally early one morning for some landscape photography.
Make yoga a part of my weekly routine
I'm going to claim a partial success on this one! I went for a yoga class with Jean a couple of weeks ago, and have been doing some yoga most days since. I just need to keep it going! I have also found an interesting yoga series on Pinkbike, one of the biggest mountain bike websites, so I intend to work through some of those exercises.
Overall I think I'm pretty much on track, with the exception of actually getting my MR2 out on track! The main thing is that I am doing well on the fitness ones, which are usually the new year goals that go out of the window first.