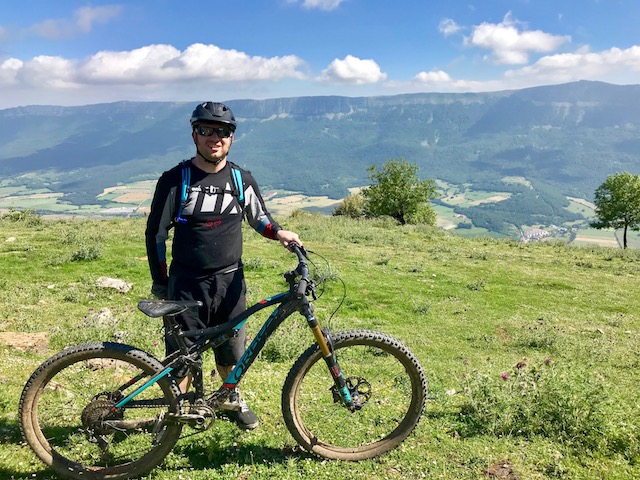 If you've seen my Instagram stories over the last few days, you've probably noticed that I am in Spain. I'm on holiday in San Sebastian for a few days (full blog post to follow), but managed to sneak in a day riding with Basque MTB. For the avoidance of doubt, the holiday was organised before I heard about Basque MTB and that they offer some of the best trail riding in the world. However, when I did hear, I had to work out how to ride it!
Doug from BasqueMTB managed to squeeze me in for a day with a group booking. It turned out that the group was a Dubai based mountain bike club, who were on their annual European mountain bike holiday. There was also another chap on holiday with his family, sneaking in an day riding. There were eight riders, two guides and two drivers for the uplift vans, so a decent crew!
Before we set off we were given the option of a coastal ride, which would have been repeating trails for the main group, or spending an hour in the van driving out towards Pamplona for some longer trails. I wasn't fussed either way, but the guys didn't want to repeat trails, so off we went in the van.
The skies had looked overcast all morning, as the road climbed I was expecting the van to break through the clouds, but just as we pulled into the car park to the south west of Baraibar the clouds parted and we got our first glimpse of blue sky! My steed for the day was an Orbea Occam, which is the next level of bike up from my Orange Four. With Fox suspension and Shimano XT groupset it did feel pretty familiar, despite the extra suspension travel.
The first trail started with a slight climb along a fireroad, before heading into the woods. Unfortunately there had been a bit of forestry work, so the trail was quite cut up, but before long we were onto some rocky walking trails. This first part of the trail continued for five kilometres, with five hundred metres vertical descent, mostly on walking trails, although we only saw a couple of other people. The trail was steeper, rockier and longer than anything else I'd ever ridden, but still wide enough that there were a couple of line choices. Carlos, the guide, waited until we were buzzing from the descent to tell us about the climb, of about a hundred metres up to the next section of trail, which would be a flowier bike park style trail. I wasn't quite the slowest climber in the group, which makes a nice change. Other than one particularly steep section, which I had to push, I was able to ride it all at my own pace and still have time to get my breath back at the top! The bike park section was fun, with lots of fast berms and a few drops, although we had to follow the guides closely, as there were some forks in the trail leading to big jumps! We all stopped by one of the bigger road gaps to watch Igor, the other guide and ex world cup downhiller, hit the jump, which he easily cleared, even with his heavy guides rucksack on! The bike park trail was just over one kilometre, with two hundred metres vertical descent, which left us about another kilometre to ride along the valley floor to our lunch stop in Arbizu.
There was hardly anyone about as we rode through the village, and the brightly coloured bikes looked a bit incongruous as we piled them up outside the traditional restaurant. Ordering food from the "menu del dia" was a bit haphazard, but I managed to get a steak. I wasn't that fussed that I missed out on a starter, as they looked huge – I struggle to stay awake after a three course lunch, far less ride my bike on technical trails! I'd seen some tasty looking desserts going out to another table, and managed to order one for myself. It turned out to be a Basque take on summer fruits cheese cake and tasted as good as it looked! The staff at the restaurant seemed fairly relaxed and lunch ended up taking a few hours, plenty of time for me to recover for the afternoon's trails.
After lunch, we got back in the van and drove up a narrow road to Santuario de San Miguel, a hilltop church, at twelve hundred metres. The trail down roughly followed the road we'd come up, but was seriously steep and rocky. it was significantly harder than anything I've ever ridden. Even the guides had to walk down some parts of it and a few of the guys crashed, resulting in broken bikes and bruised bodies. There was no let up in the rocks, so I ended up walking quite a bit of the trail, but in these situations I'd rather get to the bottom of the trail uninjured! At the time I didn't particularly enjoy this trail, but I'm glad I rode it, the short rock gardens at Cannock Chase are going to seem easy after three kilometres of rocks, over eight hundred metres of descent! With all of the issues on the ride down (it always seems like the more people in the group the more faffing there is), I wasn't sure if there was going to be time for another trail, especially as we had an hours drive back to base, but we got back in the van for another ride.
We went back up the same road, this time stopping just shy of the top, at eleven hundred metres. This is where the photo at the top of this post was taken. There was more faffing with bikes, and a few of the guys decided not to ride. I had considered skipping it, but was glad I didn't. The trail wasn't as rocky as the previous descent, and there was more vegetation, it actually felt like riding at home, albeit much steeper, with a 550 metre drop over three kilometres! I was able to get into a good flow, railing round the hairpins, and only had to walk down a few sections. I even managed to stop for a photo of an impressive wedge shaped rock sticking out of the valley floor, which I had been admiring from the uplift. I could tell fatigue was setting in, as I had a few minor falls, but nothing serious. One where Carlos had warned me about hidden "sniper rocks", which got me, and another silly crash on a bit of rutted fire road, after surviving a particularly technical section of trail. I think this was probably my favourite trail of the day, I was still shaking from the adrenaline when I pulled up at the van.
One of my goals for 2018 was to ride more natural terrain, and it doesn't get more natural or technical than these trails. I felt like my skills improved over the course of the day – if we had dropped into the last trail in the morning, I would have struggled, but by the afternoon I was enjoying it. Hopefully I will be able to ride some similar terrain back in the UK too! My eyes have also been opened to uplift days, something I thought was more aimed at people on downhill bikes, but I may try to get on an uplift day at home. I would have struggled to ride down even one of these trails, if I had to ride up first! Jen has also hinted about coming back to San Sebastian, so hopefully I will be able to do some more riding with BasqueMTB, as they certainly lived up to the hype and I'd thoroughly recommend any mountain biker looking for a holiday to check them out!
Blogged: Riding with BasqueMTB