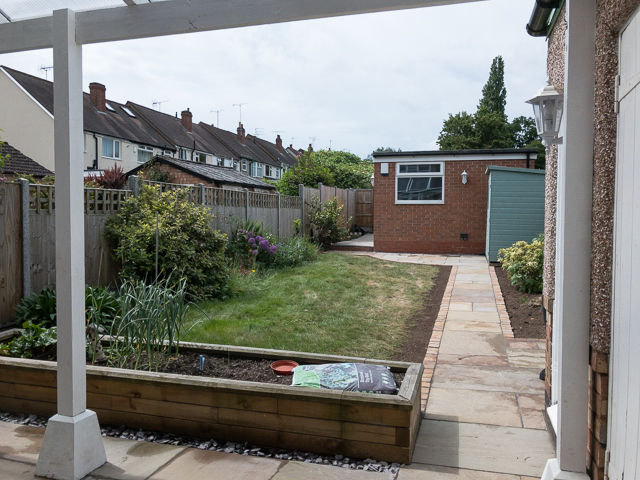 After painting the veranda the next phase of the project was replacing the old paving with sandstone. In addition to replacing the old patio and path, we wanted to add a second patio at the opposite end of the lawn, to be in the shade when the veranda is in the sun and vice versa. This meant losing some lawn, but I think the extra patio space is worth it. We also took a bit of lawn and veg plot to add a border to the sandstone path, which really sets of the sandstone paving.
There are some jobs best left to the professionals, and in my option hard landscaping is one of them. We used PR Fencing, who had done a great job of our fences three years ago. Although they are a predominatnly a fencing company, they also do landscaping and are great to work with. They replaced the veranda a few weeks ago, then fitted the roof alongside the landscaping work. All I had to do was make lots of drinks and make a few key decisions.
We are really pleased with how it looks, the path looks so much neater and the veranda looks much more solid. We still have a few more jobs to do, sorting out seating and planting. The lawn took a battering, so I will need to sort that out, as well as seeding the bits next to the new paths. The decorative parts of the veranda have not been refitted, mainly as we still need to refurbish them. So we are still going to have a busy summer working on the garden.
I was reminded earlier that it is three years since the garage build started, the garden has changed beyond recognition since then, which reminds me just how far we have come with the 119 project.