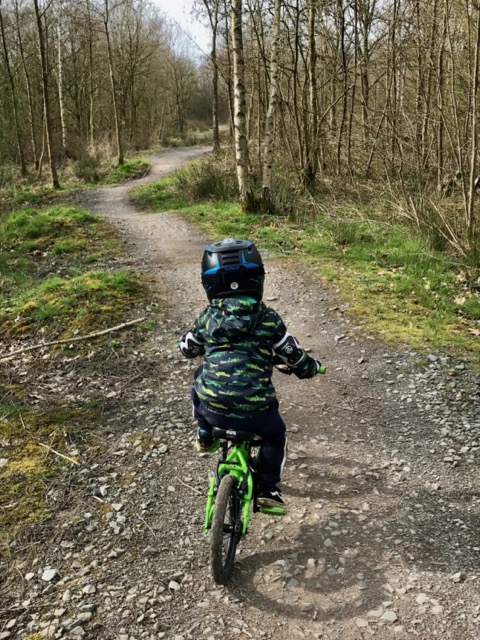 Today was our first proper family adventure in the new van, and it was very much needed! When I bought the van it was mainly to increase space for bigger trips, but what also got us (particularly Jen) excited was the possibilities that it would open up for mini adventures – local-ish day trips where we could ride bikes, have picnics and generally explore woods and parks etc.
As getting outside in the fresh air was still being encouraged (as long as you keep away from people and do not touch anything), we loaded up the van with bikes, buggy and picnic and set off for Hicks Lodge – a beginner mountain bike centre near Ashby-de-la-Zouch, that Owen and I visited a few weeks back. We did not know if it would be empty or absolutely rammed, but pulling into the car park it seemed to be the same as normal, despite parking being free (I was planning to pay for parking online to avoid touching the machine). After getting changed we rode/walked/rolled up to the picnic spot together. Even on the gravel road climb Owen was riding noticeably better than our previous visit and got some positive comments – he does look the part when he has his kit on! Lunch was a chilly affair, as it was quite windy and the air temperature had not quite matched the sunshine!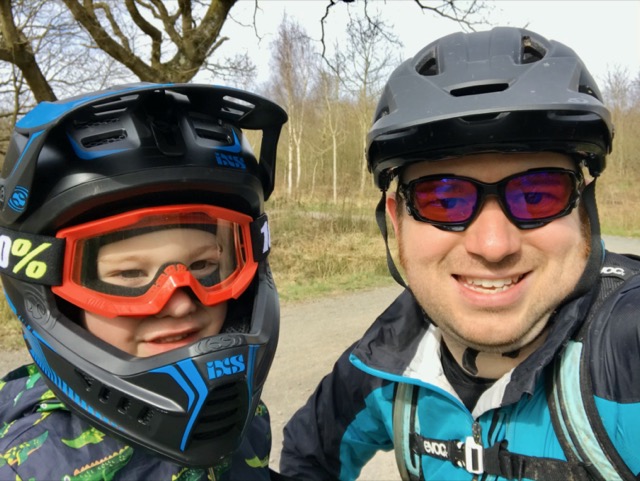 After our rushed picnic, Owen and I rode to the last few sections of the blue graded mountain bike trail, whilst Jen and Henry carried on round the walking trail. Owen struggled on the first part of the blue trail we rode, as it was uphill, just that little bit too steep for him. But once we had pushed up the worst bit he was away – the rollers and berms on this section are bigger than Owen has ridden before, but he took it in his stride! When we got to the gravel road he asked if we could ride back up again, but instead we carried on down the blue trail, on the section Owen rode (twice) on our previous visit. His confidence and bike control seem to have stepped up a notch as he was flying down the trail, instinctively catching a few wobbles when he had them and breezing over the largest roller that had stopped him previously. Watching his little legs spinning furiously on the pedals on the run in to it was so cute! Once again, when we got to the bottom of the trail, he asked if we could ride back up and do it again! What sort of mean Dad would I have been to deny him – so we rode back up the hill (non-stop) and back down the trail for more of the same!
We got back to the van just as Jen and Henry were finishing their lap of the lake trail. As I was loading the bikes up, the family parked next to us started chatting to me about the van – something that seems to happen way more often than anything I have ever driven. As we were only a few miles from where I grew up, after Henry's first nappy change in the back of the van, we took a detour to show Owen where I lived when I was his age. We inadvertently drove through the town centre, which I did not recognise, but the house was as I remembered it, albeit with a remodelled front garden. It did not take much longer for Owen to fall asleep in his car seat, only waking up to Henry's crying as we waited for Jen to drop off some Mother's Day gifts at her Mum's house. One final stop on the way home was the garden centre – to pick up some topsoil and compost, as our outdoor activities tomorrow are going to be much closer to home – in the garden!
Both Jen and I have said how good the trip out was! Even without social distancing, it would have been a great day out, but with everything that is going on, getting out of the house for some fresh air and exercise was even more important! Fingers crossed that we can have more days like this in the coming weeks and months.