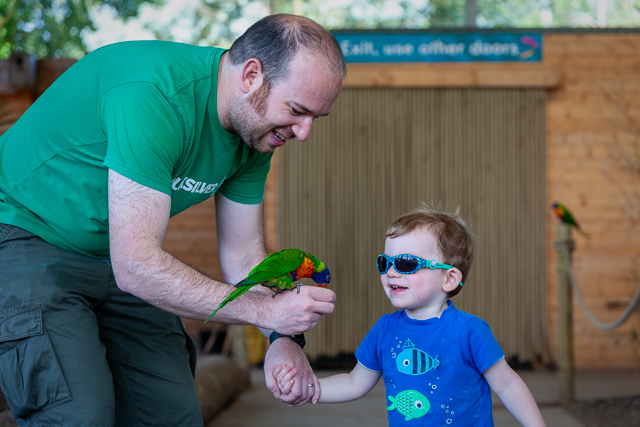 2018 has been an exciting year! Owen got a new bike (and had his first bike race), Jen got a new car and I got a new camera, which has encouraged me to take more photos.
We had a great holiday in Spain, with our friends Nicki and Mat, where I managed to squeeze in a day mountain biking with Basque MTB. We also had our first family European roadtrip, to visit my family in France and a rainy week in Croyde!
Aside from all the adventures we have had some fun family time without straying too far away from home, making the most of the glorious weather we had this summer. We spent a lot of time visiting zoos. We had annual passes to Twycross, where the photo at the top of this post was taken (by Jen), in the "Lorikeet Landing" enclosure. Our pass also got us into other zoos, including Chester Zoo, which combined with visits to Chester Ice Cream Farm and our friends Richard and Anna made for a great weekend away! My little brother also treated us to a trip to London Zoo, which was both Owen's first trip on the fast train and to the centre of London (having only visited Hackney, by car, previously). As much as we enjoyed, and would recommend, the zoo pass, we have not renewed it. We will take a few years off to visit other attractions, and maybe get another one when Owen is a little bit older, so will be able to experience the zoo through new eyes.
At the start of the year Owen was only just taking his first steps, now he is running around, exploring everywhere. Except where you want him to go, in typical toddler fashion. He has also developed his own interests – he still likes cars and bikes, but what he really loves are construction vehicles. I have no idea where he gets that from! His personality is really coming through – he knows what he wants and can be quite stubborn about getting it. He is also very chatty, and still a charmer. This year Owen has moved through two classes at nursery and made some friends. The teachers have been very pleased with his development – I think they were a bit surprised when he was able to recite the whole of his favourite book to them. Sometimes I think he is getting too clever, like when we visited the Apple Store a few weeks ago and within second of walking in, he asked me for a new iPad!
At the start of the year I set some goals, I also did a mid year update back in July, but here are the final results:
Get my weight down to 85kg
Fail! My weight seems to have hovered around 87kg, it did spend a while nearer to 86kg, but after a good Christmas it was back up to 88kg this morning. What has happened though is that I have had to buy a load of new clothes, as none of my old ones fit any more. That has to be a good sign, right?
Get my fitness back to where it was in October
Up until the end of November I really felt like I was the fittest I have ever been. However, I had a cold for what felt like the whole of December, and took my foot of the gas a bit. My first proper rides back I really struggled, especially at the pumptrack. I have been following MTB Fitness and Matt has really helped with my motivation. I'm sure I'll be back to where I was, and hopefully fitter by the spring.
Improve my MTB skills
I went on an MTB skills course, which was a good start, however I haven't really followed it up. I am defiantly better at manuals and track stands, but there is a lot of room for improvement. Where I do feel that I have improved is at riding technical trails, which is probably more useful than the showy trials skills I wanted to learn.
Conquer the Tom, Dick and Harry section at Cannock Chase
Fail! This should have been easy! My excuse for not checking this is down to not getting there, rather than still being scared of it. I have ridden far more technical trails this year, including on my hardtail whilst on holiday in Devon. There have also been a lot of diversions on the Monkey Trail, which features Tom, Dick and Harry, so I have tended to avoid it when I have been at Cannock. I did make it down the Devil's Stair case for the first time last week, admittedly helped by the tricky step being removed, but I am still going to claim it.
Ride at a new trail centre
I am going to have to count the ride I did at Lady Cannings in Sheffield for this. Even though I'm not sure that can be classed as a trail centre. I had planned a trip to Scotland with my friend Ali, but life seems to have got in the way. I was also planning to ride at 417 Bike Park for my birthday, but had a cold, so didn't feel like I would make the most of it. I've also been concentrating more on riding natural terrain…
Ride more natural terrain
Yes! I can certainly check this goal off! My ride at the Long Mynd with Andy feels like ages ago. The day I did with BasqueMTB in Spain was one of the highlights of the year, even if I was a bit out of my depth on the steep rocky trails. They did however set me up well for the loop I rode around Lady Bower Reservoir in the Peak District at the end of the summer. I felt that it was fitness holding me back there, rather than my bike skills. When I unexpectedly found some technical trails in Croyde, I managed to ride them, even though I was on my hardtail, which wasn't really the best bike for it. As fun as trail centres are, getting out into the hills is my favourite part of mountain biking!
Do some trail maintenance
Yes! I have done a bit of trail maintenance around my local trails in Coventry, ranging from small bits of tidying on a ride, to helping some local lads make a jump track. I also spent a day with Chase Trails at Cannock Chase, working on their new Snake and Adders section. Now that I've done a full day with them, I'll be making more effort to stop and lend a hand for a while when I am over there riding on a Sunday.
Drive the MR2 more
This is a hard one to quantify. I have been making more effort to drive the MR2, and I have really enjoyed to occasions where I've been able to go for a fun drive in it. Such as a pointless Sunday drive earlier in the year, or when I used it to run an errand to Staffordshire, stopping off to do some photography on the way back. I did manage a track session at Silverstone, but now that I am working reduced hours, I can't justify the cost of a full trackday.
Take more photographs on my DSLR
At the start of the year I couldn't see myself selling my DSLR, however switching to a Fuji mirrorless camera has invigorated my photography. I have probably taken more photographs in the last three months than the rest of the year! Being able to take it with me on bike rides too is a real game changer for me. There also seems to be a good community around the Fuji cameras, which has helped with both learning the new system and motivation. I also mentioned that I would like to get my Orange Four into the GMBN Bike Vault, which I did.
Learn to juggle
Fail! Juggling well and truly fell by the wayside after about March. I've only recently found my juggling balls after Owen hid them for a few months.
Looking at my Strava statistics, through the handy Veloviewer graphic below, I beat my active days from last year, although I think that if I ignored commuting I would be way down. I matched 2017 for elevation, but I have a feeling Strava counted the elevation from the Basque MTB uplift van, even though I paused Strava whilst in the van. Just missing out on 100 active hours was annoying, I must admit I did consider sneaking in another ride to get a round number, but I will have to leave it as a goal for 2019.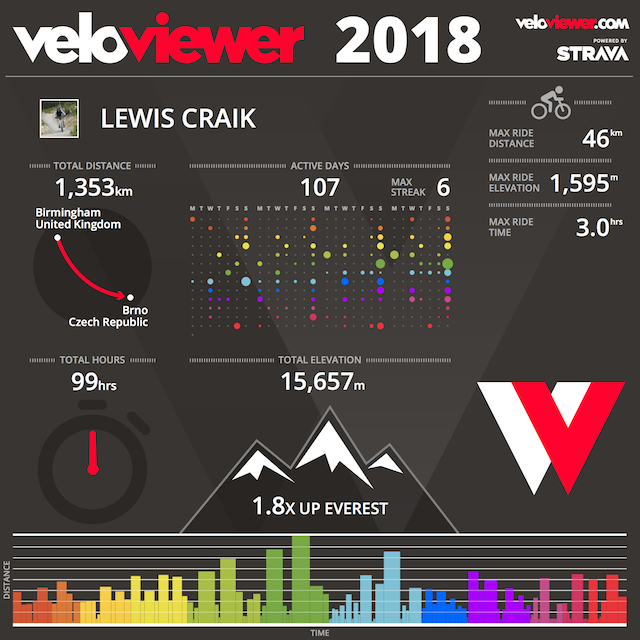 Even with all the crap that has been happening in the news, 2018 has been a pretty good year for me. 2017 was always going to be a tough year to follow, but work, personal projects, mountain biking, photography and of course Owen have kept me busy and on my toes! Having the last few weeks at home with Jen and Owen, to relax and catch up on some jobs has been very welcome. Now we are up in York spending New Years Eve with some of our friends.