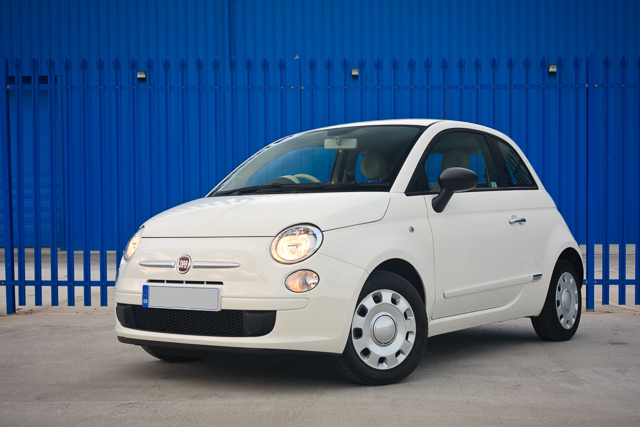 After nine and a half years of faithful service, Jen's Fiat 500 has gone to a new home. Jen sold it to her sister, so I am sure we will see it again in the future. I am yet to do a photoshoot with the replacement car, although it has popped up on my Instagram stories, but stay tuned…
Jen had the 500 when we met, in 2010, so it feels strange not having it around. We had some great adventures in it. The first one I remember was going to see Faithless play in Nottingham. It was a great gig, but when we came out of the arena the city was white – covered in snow! This was before I was insured to drive the 500, or indeed had fitted it with winter tyres, but Jen did a great job of getting us home safely. Not only was it tricky driving round an unfamiliar city with all the road markings hidden by snow, there were a lot of drunken people, who seemed very excited about the snow, playing in the road.
The 500 carried Jen and I on trips to Scotland (at least twice), Croyde (at least three times) and even to a Pistonheads Sunday Service at Morgan factory (after I had a tyre blow out on the MR2). Last year we had to use it to transport all three of us to Chester for Rich and Anna's wedding, as three of our cars managed to break down at the same time and the 500 was the easiest to fix.
Writing this post made me realise just how much the 500 had been a part of my life. I have had four cars since meeting Jen – my old MX-5, my new MX-5, the MR2 Roadster and my red BMW. Until a few weeks ago Jen had only had the 500! For most of this time the 500 was the sensible car, used whenever we had people or things to transport, including a lot of Ikea and tip runs during the 119 Project.
I posted this picture back in 2012, but as it is still one of my favourite car photos I thought I could get away with reposting. It was taken on the industrial estate behind my old flat in Rugby. I seem to remember I had dropped Jen off for a haircut and drove round town taking photos of the car until it was time to pick her up.