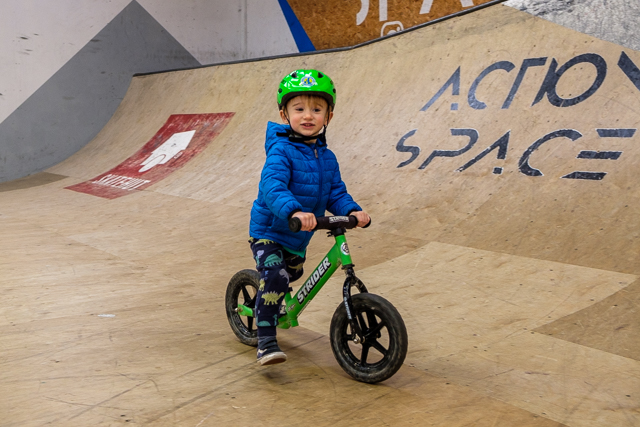 Henry's balance bike club, Ready Steady Riders, organised a trip to Adrenaline Alley in Corby, the biggest indoor skatepark in Europe – I knew Henry would love it, so put his name down straight away. Since telling him about it, every weekend he has asked if we are going to "the big skatepark". Because the skatepark is indoors, two-year-old logic means that Henry thinks that his coach must live there!
The trip just happened to be arranged on the stormiest weekend of the winter, so I was not bothered about missing my usual Sunday morning ride, and was actually quite looking forward to a road trip in the van with Henry! As a special treat, I moved Henry's seat to the front, next to me – which he loved. He gets a much better view out of the front of the van than he does in my MR2 Roadster, so was excitedly telling me all the things he could see.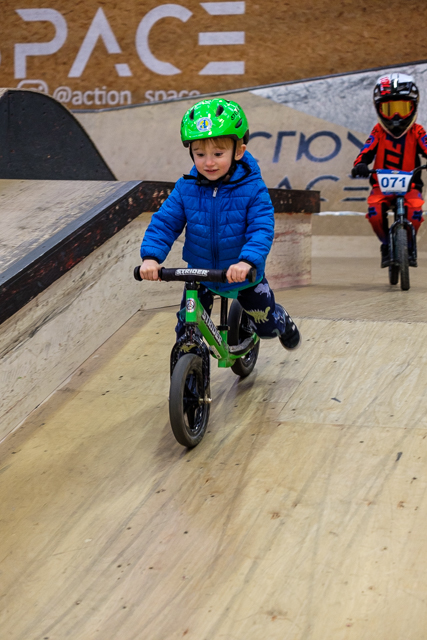 We were in a different part of Adrenaline Alley to when Owen and I visited back in 2020, and it seemed like a better set-up, with a good viewing area/grandstand for parents. Henry got stuck in and did some good riding, only stopping to pester me for sweets after each lap, because for some reason Henry seems to associate skateparks with snacks. At one point there were some races and Henry won his race against the other smaller boys, he also did a good job of waiting patiently before and after the race. Henry did not want to try riding down the roll-in, but made use of the quieter track to do some more laps, before declaring that it was "time to go home". Fortunately, I was able to convince him to ride some more after a rest and some more snacks. Henry did some of his best riding towards the end of the session, so I am glad he went back out. It was also good to see him jostling with the bigger boys to get to the front of the queue – obviously, normally I would not condone that sort of behaviour, but Henry can be really wary of other children, likely due to lack of opportunities to mix with other children over the last few years, so I am glad to see him getting more confident.
Then it was time for cake, as the trip was a belated sixth birthday celebration for Ready Steady Riders! We all went to the cafe, via a tour of the skate park and gatecrashing a YouTube video. Again Henry was really good in the cafe singing "happy birthday" and helping to blow out the candles on the cake, then when it was time to leave he gave his coach a big hug. He managed to stay awake for most of the drive home, counting the wind turbines, albeit missing out the numbers three, four and five. He also told me that he will be six on his next birthday.
It was great to have a bike trip with Henry, as it is usually something that I do with Owen. Henry did some good riding but I was most impressed by his attitude and behaviour. I am going to try to build on this by taking him to more Ready Steady Riders sessions, at least until he starts to ride the pedal bike that he will be getting for his birthday next month…