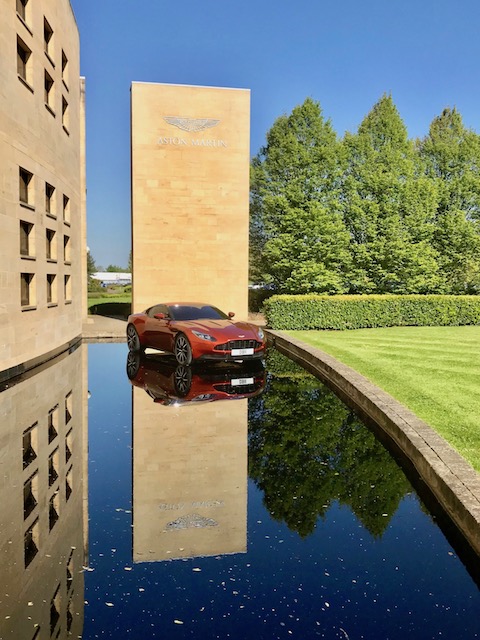 Owen and I had a great morning visiting the Aston Martin factory in Gaydon for the Pistonheads Sunday Service. Owen has been to a few Pistonheads events before, but only as a baby in a pushchair, this would be our first one just the two of us in the MR2. My parents were also going, so I knew I would have back up if needed.
One of my favourite parts of Sunday Services is the convoy down with my friends from the Pistonheads Midlands forum, it was Owen's first time experiencing this. He was made to feel very welcome, and enjoyed checking out the ten or so cars assembled before we set off. Once back in the MR2 it became clear that Owen had a favourite car – he was asking about "the fast version of Grandpa's car" (a Jaguar Project 8) all the way to Gaydon! He definitely has good taste in cars!
At Gaydon I was going to park next to a group of Toyota GT86s, but at the last moment spotted a space next to a 1920s "Blower" Bentley – as much as a line of sporty Toyotas would have been cool, Bentleys are way cooler! As we were checking out the Toyotas (I decided not to tell Owen one was actually a Subaru – two identical looking cars being made by different companies would have caused a flood of "whys"), my parents turned up in their Porsche. So I suggested to Owen we had a look at a cool Porsche I had spotted. He was happy to see his grandparents and excitedly told them about the cars we had seen. As we walked past the Jaguar Project 8 he told my Dad that it had a big wing and big brakes. We then looked at a lovely yellow Triumph TR6 – exactly the same as the one my Dad had when I was a toddler!
Inside the Aston Martin HQ/factory Owen was most excited about the model cars in the gift shop, but with prices starting at £180, he left empty handed. As we walked from the entrance to the cafe to grab some breakfast, there was a display of Aston Martin cars from 1905 through to the current day, which we all enjoyed. My favourite was the DB5 "Superleggera" – I have not even dared to check how much they are worth though! Aston Martin had loads of staff on hand to help people and had obviously put a lot of effort in to hosting the event. When Owen started to get into a grump as we were leaving, straight away an employee came to offer him a sticker, which cheered him up. Owen proudly wore his Aston Martin sticker for the rest of the day!
With so many new Aston Martin cars about, on display and in the car park, the main thing that struck me was just how big they are, with the exception of the Valkyrie. Maybe it is because I am used to my little MR2 Roadster, but they all looked huge! My Dad and I agreed that the previous generation Vantage looked perfect though.
Every time I visit the Aston Martin part of Gaydon (they share the site with Jaguar Land Rover) I leave thinking "this would be a great place to work!" – I have been keeping an eye on their job postings, but have yet to see anything that would suit me… Owen seemed to really enjoy his morning, other than the one almost-tantrum he was on his best behaviour, but the excitement was obviously too much for him, as he fell asleep on the way home, despite the roof being down in the MR2.